File Cabinet Lock Replacement in Burbank
Filing cabinet locks got old and rusty? It's a great time to have those locks replaced. Call us and we'll take care of all your file cabinet lock replacement needs! Ensure the integrity of your business by keeping your classified files safely stored. To do that, you need to replace your old cabinet locks with new ones that burglars won't be able to pick!
This is why we urge you not to waste your time; you got to install new file cabinet locks ASAP. Luckily for you, our team of certified office locksmiths is at your disposal.
Here are some of the services we offer for file cabinets: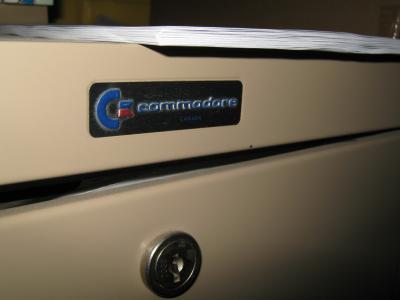 File cabinets lock installation
File cabinets lock repairs
Filing cabinet key duplication
File cabinet lockout service
Master key system for files
Jammed file cabinet keys
If you think there is something we can help yout out with don't wait just give us a call. We have the experience and the expertise to deal with any kind of problems with any kind of file cabinet locks!
File Cabinet Lock Installation
Generally speaking, there are two types of file cabinets – the ones with a lock and those without any. Surely, if there isn't a lock in your file cabinet, your papers and files are not safe.
But, you can solve it pretty easily. The only thing you have to do is to call us to install locks there. But, we won't install just any type of lock. We'll install those that are nearly impossible to pick. And even if your file cabinet does have a lock, it doesn't mean that it's good enough to keep stranger's eyes away.
In fact, the experience has thought us that most common locks used in file cabinets aren't that good in terms of security. That's why we recommend replacing them with brand-new file cabinet locks. You just need to pick a type of lock you want and we will drive out to you to do it. To help you out with your choice, here are some of the most popular file cabinet lock types.
Cylinder Locks
By far, the most popular type of file cabinet locks, cylinder locks require a key to lock/unlock. The biggest advantage is that they're fairly cheap and very easy to replace. On the downside, they can be somewhat impractical – you need to have the key with you all the time. And if you lose it, you gotta call our Burbank locksmiths to make you a new one.
Cam Locks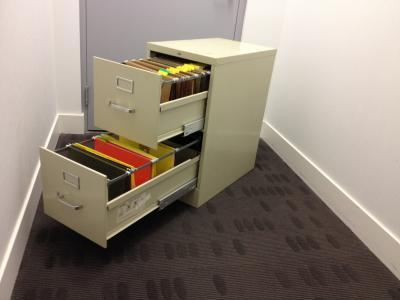 As the name suggests, these locks use the "cam", a part that does the latching as you turn the key. Same as cylinder locks, cam locks are also very easy to install/replace. They too require the use of a key.
Lock Bar
As cylinder and cam locks can be a bit impractical, especially in busy enterprises, a lock bar might be a solution. Basically, the bar is installed outside the file lock cabinet, covering several drawers at once. This way, not only the lock bar adds to the security, while also improving the convenience – it allows one person (the boss, for example), to have access to all the file cabinet drawers. 
Keyless File Cabinet Lock Replacements
The old-school file cabinet locks might not be enough to keep your files 100% secure. It's the 21st century and the thieves' techniques have become more advanced. To make sure no one steals your company's files, why not take advantage of modern technology?
There are all kinds of high-tech file cabinet locks these days that can not only improve the security but your convenience as well. Here are some types that we heartily recommend.
Keypad Locks
Rather than using a key to open the file cabinet, you get to use a keypad. Just type in the code number and voila, you can open it! The best thing is that you can pick your own code and change it whenever you feel like it.
Keycard Systems
Instead of using keys, you and your employees got to use keycards in order to open the file cabinet. It's pretty practical, but there's another advantage – the system keeps a log of who and when had opened the file cabinet. This way, if a file goes missing, you will know who stole it.
Bluetooth File Cabinet Lock
To be completely honest, keeping a key or a keycard in your pocket all the time isn't too practical. And lock codes are easy to forget. If you agree with this, then Bluetooth file cabinet locks are what you need. Basically, in order to get access to the file cabinet, you just need to use your smartphone.
File Cabinet Lock Replacements for Offices
If you think that the locks in your office cabinet are either unsecured or impractical (or both), you need to call us to get them replaced. This is something that you can do whenever you feel like it, we are available 24/7.
Our team comes by to your office
If the file cabinet lock can't be unlocked, our team will have to pick it
The next step is to remove the old lock
Our locksmiths will then install the new lock that you've picked
The final step is to test the lock, making sure it works properly
As you can see, the whole process won't take too much of your time. Of course, only if it's done by real experts. So, make sure to call us for this job!
If you decide to have the file cabinet locks replaced, we're the ones you should call to do it for you!
What Customers Say About Locksmith Burbank

The keys to my porsche boxter just disappeared last night. I was so frustrated, I had to go to work, I also didn't want to lose money due to the delay. I called for a locksmith and Tom came over right away, and made key fob for me on spot. I thought only dealer does them, but it seems Locksmith Burbank can do any keys and price was good too

My office is in Burbank and I often need to meet people. So the day my office door stopped to work, I was both sad and upset. My secretary called Locksmith Burbank and I was pleased from the fast job and professional education the guy from Locksmiths have. My work day was safe!

Unexpected situations are always embarrassing and upsetting… especially if you have no time at all! When I realized my garage door wasn't working I nearly got a heart attack! After a few minutes, I got a great idea and I called Locksmith Burbank: the guys arrived on time and did an excellent job!